Title:
Senior UX Designer (Boston, June 2016-present)
Skills Used:
Azure, User Interviewing, Concept Mapping, Competitor Analysis, Feature Analysis, Sketching, User-Flow, User Journey, Lo-Fi Wireframe, Rapid Prototyping, Paper Prototype, User Testing, Clickable Prototype using Invision, Graphic Design, Photoshop, Illustrator, Presenting
Description:
Responsible for information architecture, user / data flows, building out prototypes and user research. Working in close collaboration with the Dir. Of Experience Design the XA contribute to and develop a broad range of architecture, interaction and testing documents, while driving continuous tactical improvements in product craftsmanship and user experience.
Focusing always on the needs of the customer and how to best balance those with the business goals and inevitable technical challenges. Constantly advising clients and the internal team to engage with customers by conducting user testing and research to ensure the project's strategy aligns with the users' goals. Advocate for simple and intuitive experiences and is always thinking like the user while balancing the restraints of the project environment in order to arrive at the best possible solution.
Mass Save:
Project length: 1yr (masssave.com) Responsive Redesign
Known for being a resource to New England locals in all things around energy efficiency, Mass Save has a large demographic from business owners to low-income families. Considerations taken with this redesign was to make the site friendlier, scannable, and more approachable with the valuable information provided.
I usually start with sketches with each project, no matter the size. Sketching is the the best way to get ideas out quickly, cheaply, and no attachment is formed. I was able to develop an atomic design approach with composed of 3 page templates and over 40 components.
Mostly I worked closely with, content strategist, user interface designer, and developers to help complete this in a timely manner.
BridgeStreet:
Length of assignment: 4 months (Bridgestreet.com) Responsive Redesign
BridgeStreet Global Hospitality is the leading international provider of serviced apartment experiences. They approached us wanting a more familiar interface when it came to their hospitality offerings. We were able to include a new way for customers to book online and help give their new facelift a personality that more closely matches their mission statement.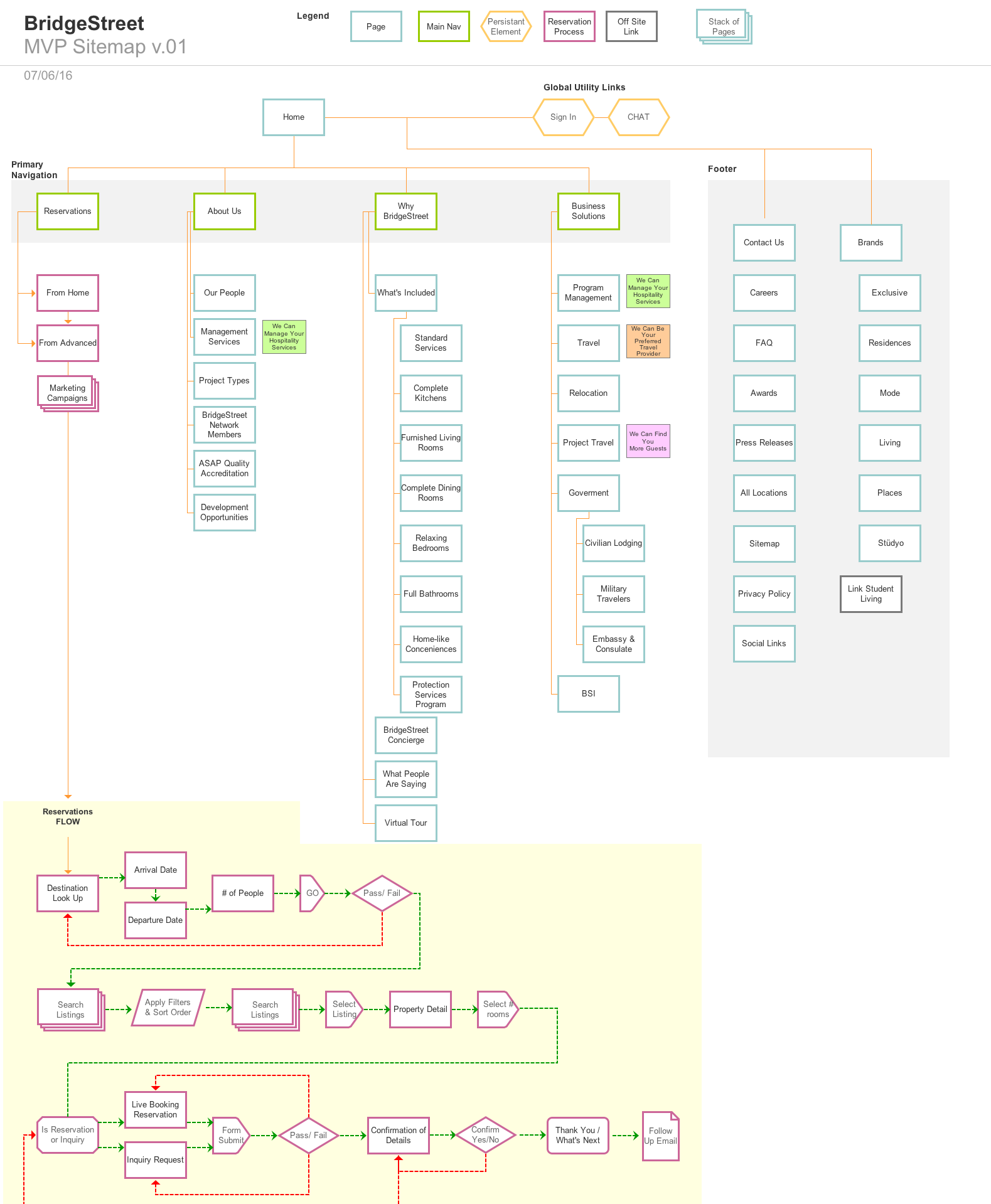 ICF:
Length of assignment: 3 months (ICF.com) Responsive Redesign
ICF International is a consulting firm that provides professional services and technical solutions to maximize impact for people, businesses, and government in areas critical to the world's future. They wanted a fresh look and responsive with a current rebrand, we were able to provide something a little funky for them. The site carries lots of information, mega menus, and internal sub menus were a few of the challenges we were able to find solutions for.
UPMC Physician resources:
Length of assignment: September 2015- Ongoing -Responsive Redesign
As a trusted resource for the latest news in medical research and CME course offerings, UPMC is going through a brand refresh and along with that they asked for a new more intuitive responsive site for their visitors. We were also asked to add, evaluation tracking, favoring options, log in, and a dashboard tracking system.
UPMC Physicians Resource is a work in progress. I was able to understand this clients needs and give them a clean redesign. Currently they want a better understanding of who their main demographic is and with a tighter design around email sign up and a new log in process, we believe we can achieve that.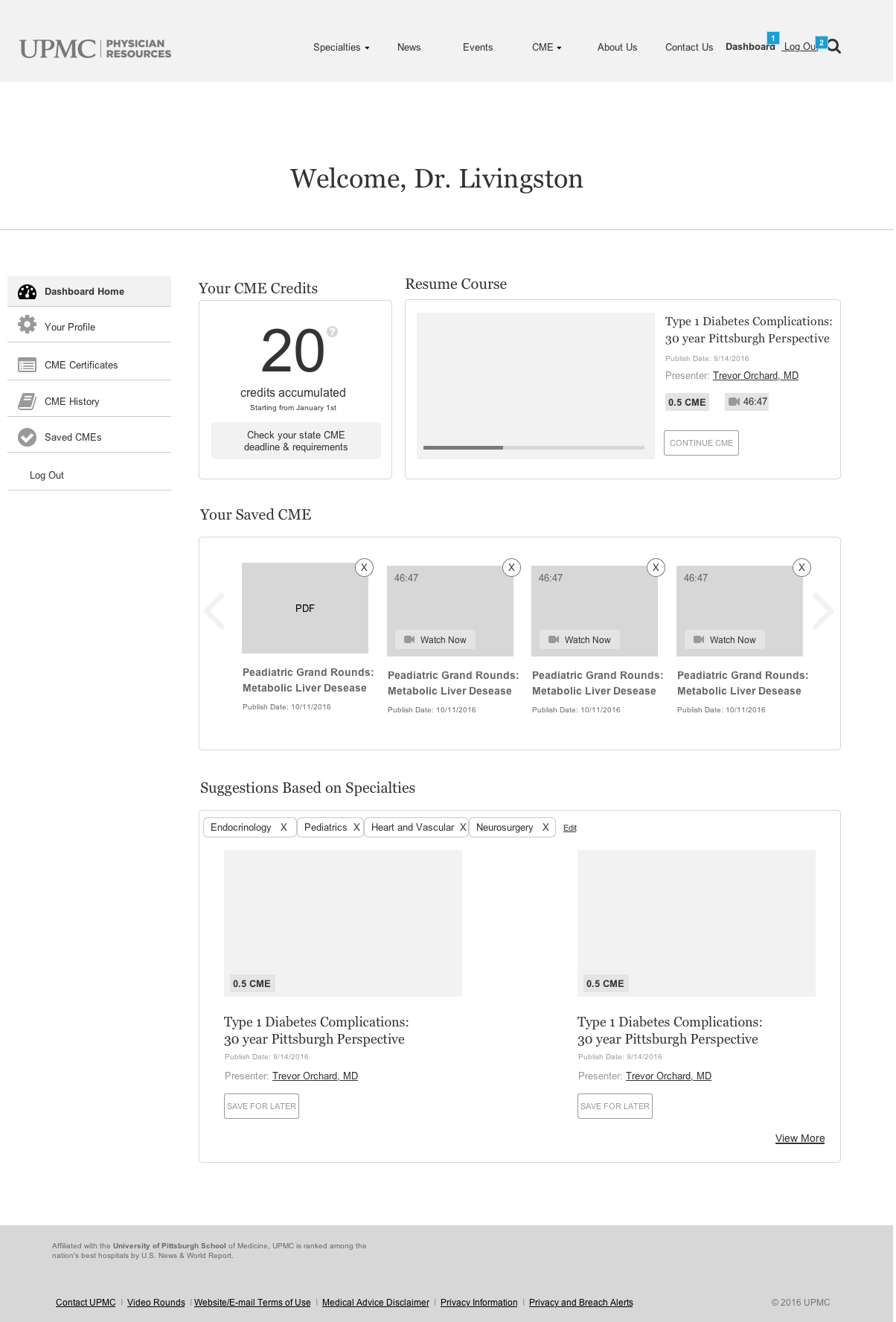 CHS (carolina healthcare systems):
Length of assignment: January 2016- Ongoing (Intranet)
CHS needed a better way for their staff and physicians to access portals and stay up to date with the systems they interact with on a daily basis. We were able to quickly supply 8 quick wins that they were able to implement in a short amount of time. Later we were approached again to help develop a digital workspace for physicians and that is currently still a work in progress.